SOCIAL LISTENING FINDINGS
Our social listening research seeks to uncover the ongoing COVID-19 conversations taking place online across the nation in order to identify the areas of greatest need and hone in on shifting social trends.
In addition to our weekly briefs, supplemental social listening insights are updated weekly below, adding further depth to findings discussed in the brief as well as highlighting additional areas of interest.
Advertising During the Coronavirus Pandemic
Thousands have taken to social media to share their opinions on recent brand efforts, making social listening a valuable practice for gauging consumer response. The most successful ads took an authentic and unique approach, while remaining relevant and engaging. Brands who put their employees and their customers first received praise and encouragement, especially by those customers who personally experienced a brand's intent to follow through.
There has also been a notable shift in general receptivity over the past week. A greater number of consumers called on brands to introduce humor and cleverness into advertisements, while some called for a return to pre-covid advertisements altogether.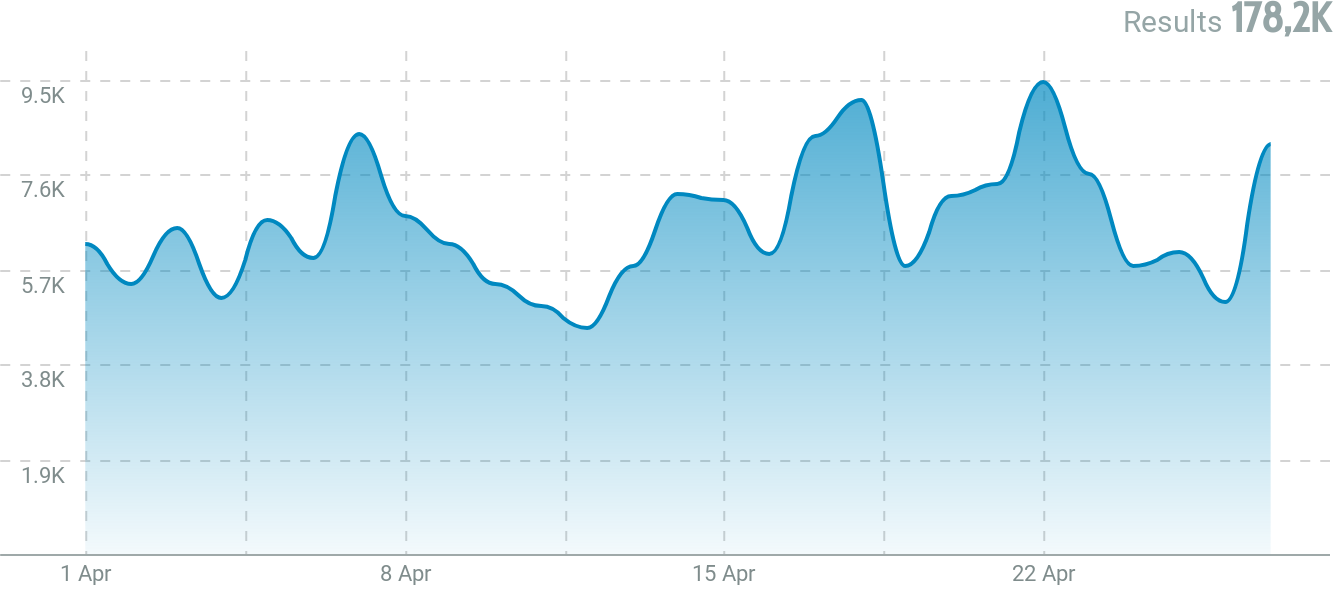 Daily Mentions of Brand Advertisements & Total April Mentions
Ads featuring outdated imagery and insensitive messaging sparked the most criticism. Those showing close contact (i.e.hugging, shaking hands, high-fiving) or questionable personal hygiene were largely discouraged by the public. Similarly, ads perceived as insensitive to the current state of the economy evoked a comparable response, and included work-from-home messaging amidst record-breaking unemployment rates, CPG ads for widely unavailable products, and high-ticket ads while many U.S. households are experiencing a significant financial impact as a result of COVID-19.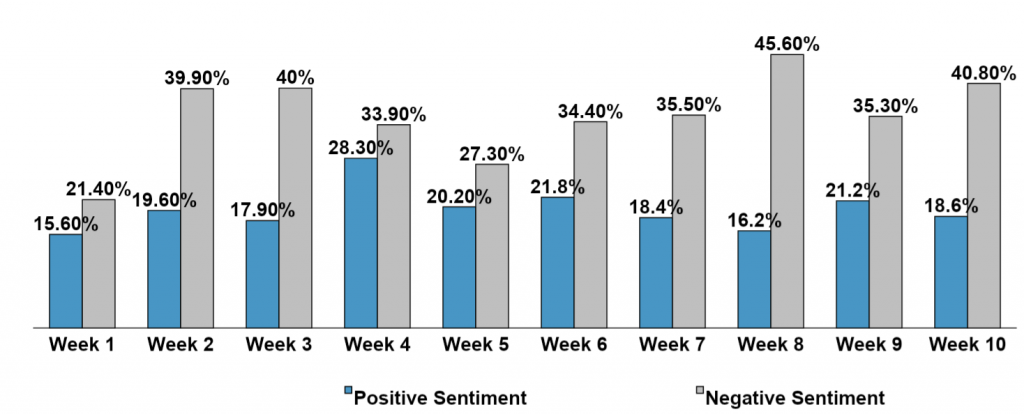 WEEKLY SENTIMENT OF BRAND ADVERTISEMENT MENTIONS
Figure 3: Sentiments appearing in publicly available U.S.-based mentions of brand advertising March 1, 2020
Brands have been forced to reevaluate their advertising content as a result of the pandemic. Ads have been pulled from the market, reframed to better match the current climate, and even scratched completely in favor of new, highly relevant work. 
Recent advertising strategies have fallen into one or more of the below categories: 
A brand value/coronavirus response focus

A split approach between product and benefits in the 'new normal' 

A product-focused approach
Let's explore the primary learnings from each of the three strategies:
A Brand Value/Coronavirus Response Focus
Employees and customers first, advertising second.
Before pivoting to a brand value or coronavirus response strategy, be mindful of the current perception of your brand. Consumers are interested in how brands are supporting their employees and their customers. If the perception is that your brand isn't fulfilling its duties, beware of backlash.
Authenticity is of utmost importance.
When creating advertising around your brand's response efforts, recognize your own motivation. Consumers appreciate hearing about brand efforts, despite recognizing the dual benefit of maintaining brand awareness, but be sure to keep the humble brag to a minimum. Exploiting the pandemic is a hard no for audiences, and shifts the perception from a community service to a marketing ploy.
A Split approach between product and benefits in the "New Normal"
Beware of overpromising. 
Brands employing a 'here for you message,' with or without a product sell, need to have full intentions of following through. Angry customers use social media as a platform to expose bad brand communications which can result in long term reputation damage.
Take a unique approach.
Consumers complain about recent advertisements feeling identical from one to the next. Phrases such as "in these difficult times," "in our new normal" and "we're in this together" are now creating backlash, as it feels like every commercial has the same script. In the past week alone, mentions of these key phrases have nearly tripled.
A product-focused approach
Humor and light-heartedness go a long way.
As previously mentioned, many consumers feel that covid-related commercials have become identical, and often allude to a shared sense of sadness. Consumers want a way to disconnect from the flood of coronavirus communications and express a desire for more light-hearted, positive language. This finding was reinforced in our weekly survey results with 64% of respondents claiming they turn to TV, videos, games, or other entertainment sources as a way to feel better.
Consider bringing back pre-covid ads (within reason).
Consumers are beginning to call for an end to corona-themed advertisements. While the transition will be slow and steady, the industry may be reaching the pivot point. For those brands with ads respectful of coronavirus sensitives, the time is near.
Brands must tread carefully as they consider their ad content and messaging, while considering how consumers will respond. There is no 'right' strategy, as each brand's values and purpose are different, and there's no question that the public still needs important health communications and guidelines. But, can you find the right tone and message to deliver?