SOCIAL LISTENING FINDINGS
Our social listening research seeks to uncover the ongoing COVID-19 conversations taking place online across the nation in order to identify the areas of greatest need and hone in on shifting social trends.
In addition to our weekly briefs, supplemental social listening insights are updated weekly below, adding further depth to findings discussed in the brief as well as highlighting additional areas of interest.
In these tough times, more and more people are turning to mobile apps to get peace of mind. It should come as no surprise that there are hundreds of applications available, from meditation and relaxation to productivity and mood enhancement. In this week's survey, 11% of respondents claimed they used a meditation or mindfulness program, app or practice during the past week in response to feeling anxious, depressed, sad, isolated or lonely. But, which apps are the most popular? And why?
In doing a quick search online, users are presented with numerous "Top 10" resources ranking these apps, but no two lists are identical. If we use online mentions as a measure (see figure 1 below), the Calm app takes the lead, accounting for over half of all U.S.-based mentions on Twitter over the past 30 days. In addition to the top ranking apps below, which include Headspace, Insight Timer, 10% Happier, and Talkspace, other notable apps included Sanvello, Stop, Breathe & Think, and Aura.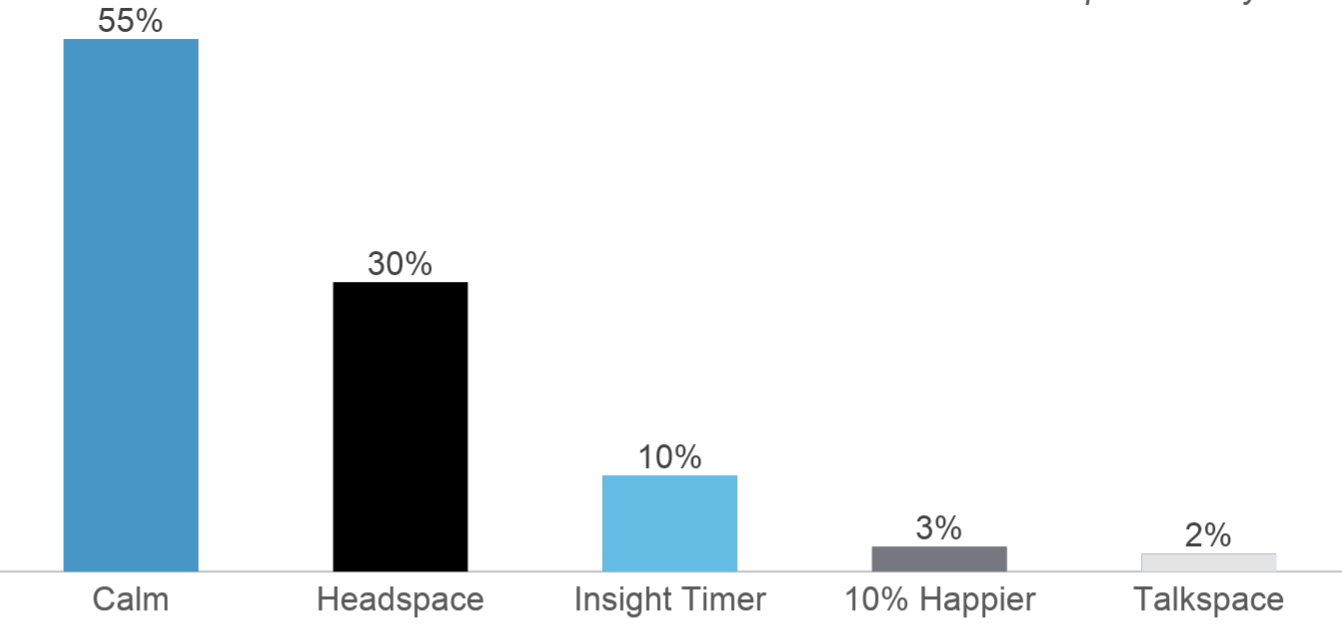 Mental Health App Mentions
Many users also view app store ratings and reviews as a reliable measure for app performance. When plotting online mentions against app store ratings and reviews (see figure 2 below), Insight Timer elicits a combination of high mentions, high reviews, and high ratings. Similar results were also seen in online sentiments, though 10% Happier took the lead with the highest share of positive sentiment.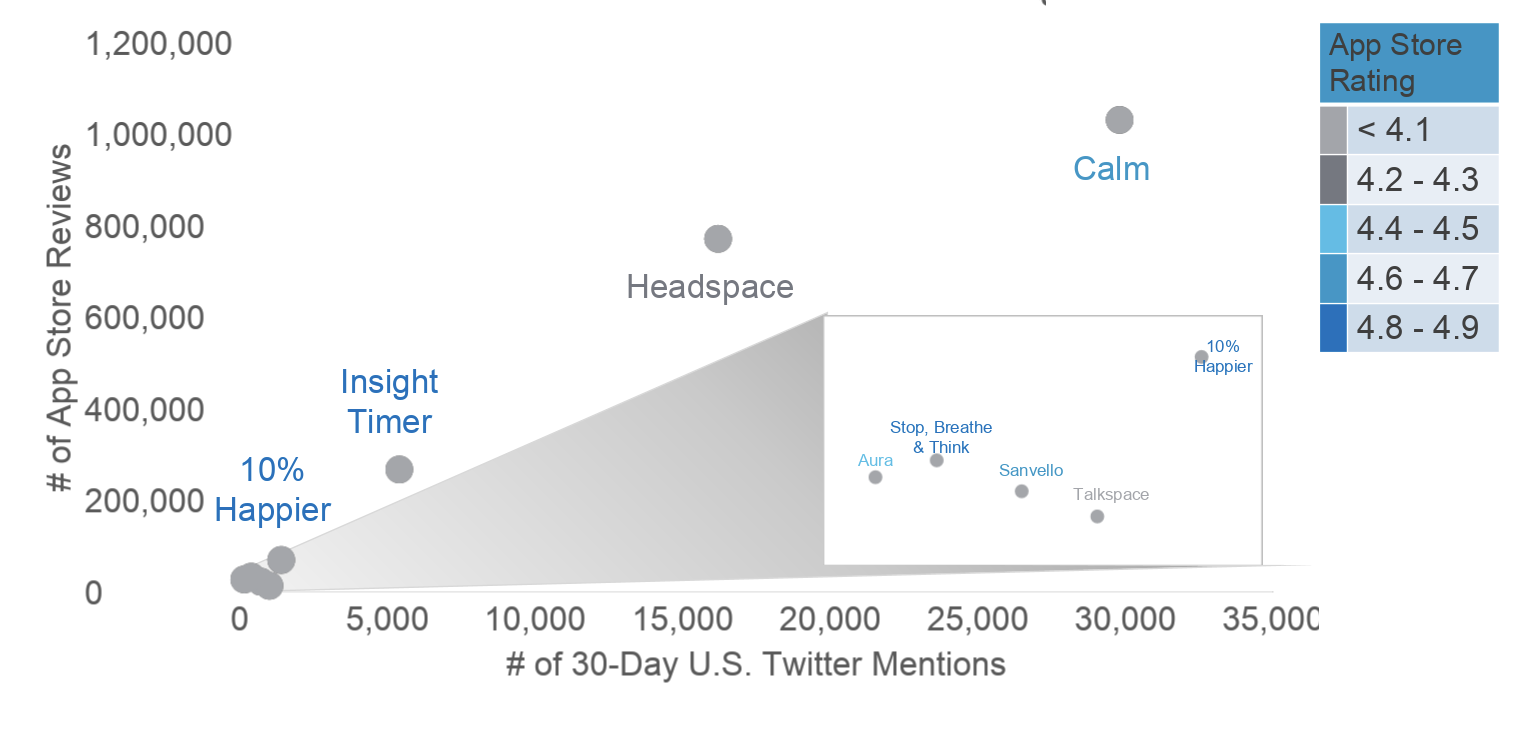 Top mental health applications ranked by the number of U.S.-based Twitter mentions appearing publicly online over the past 30 days, in combination with iOS and Andriod marketplace app reviews and ratings
So, which app is right for you?
No article, app store, or social listening analysis can tell you that. However, Calm, Insight Timer, and 10% Happier seem to be good bets!
A New Type of Bucket List
Back in 2007, screenwriter Justin Zackham introduced the film 'Bucket List' to people around the world. Whether you remember the movie or remember the amazing Jack Nicholson and Morgan Freeman duo, you probably don't remember thinking, "wow, what a great name!" (...or maybe you do). With this film's release, the term 'bucket list' was born... and we all have Justin Zackham to thank for it.
Now in 2020, the nation has begun creating a new type of bucket list: the post-quarantine bucket list. Over the past 30 days, there have been over 1,100 mentions of post-quarantine (also known as post-covid, post-corona, etc.) bucket lists in the United States. While each social media user's bucket list was unique, country music concerts (+ concerts in general), coffee shops, and travel destinations, topped the list, with shopping and golfing falling closely behind (see figure 3 below).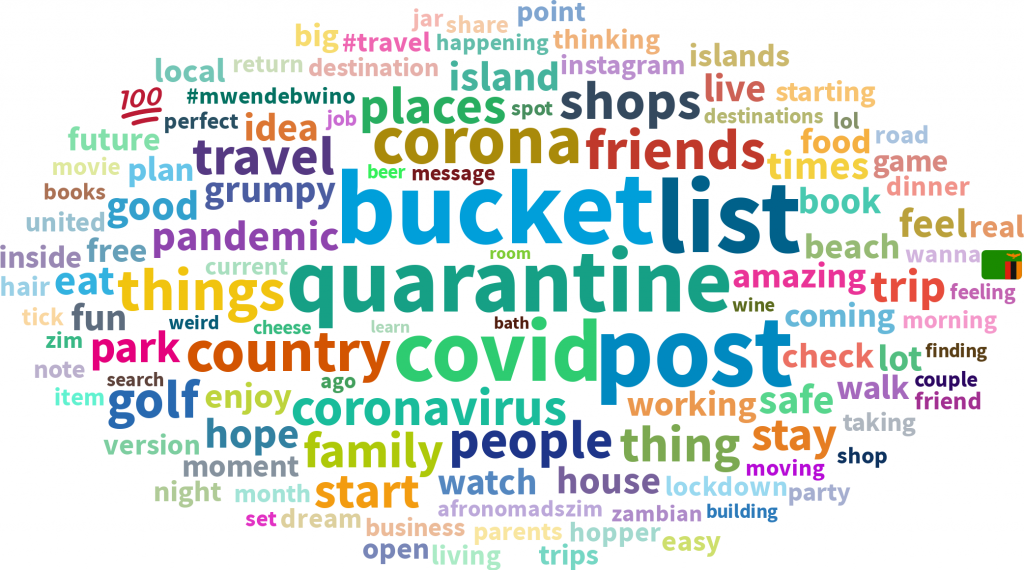 Graphic powered by Talkwalker
The basis for many Americans' bucket lists belong to the industries most negatively affected by COVID-19, including the travel, live entertainment, and food industries, as social distancing guidelines prohibit many of the above activities from taking place. 
Visiting friends and family also frequently appeared in bucket list mentions. In a previous analysis, we saw an incredible influx in the use of video conferencing applications, and in this week's survey, we learned that 60% of respondents spoke to family members and/or friends during the past week in response to feeling anxious, depressed, sad, isolated or lonely. But, many Americans are looking forward to in-person reunions. 
So, what's on your bucket list?